[ Home ] [ Jeffry C. Feller ] [ Francis J. Feller ] [ Sheryl A. Dietz ] [ Kenneth C. Feller ] [ Steven P. Feller ] [ Kathleen S. Koep ]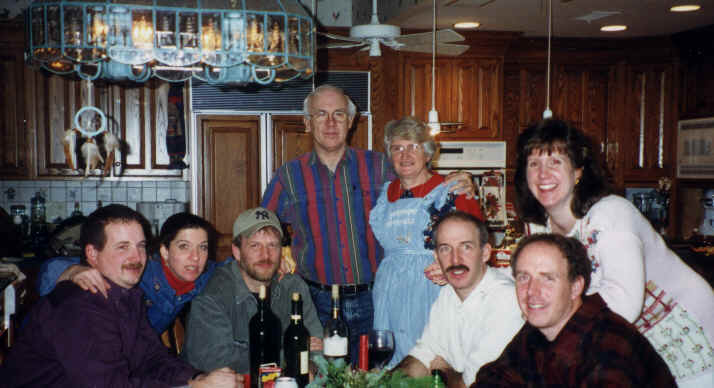 Christmas '98

Chuck and Ina are currently on a special assignment in the Great Southwest,
collecting photos for this website.
Please check back for updates, but for now, here is a quick preview of a few of the hundreds of pictures we have taken on our RV2000 Vacation.
Pictures from our RV vacation - August 20 through November ??, 2000

Hitting the Road from Chester NJ

Ina and "Almost" Willie

Precious Moments Center
Carthage, MO

Campsite at Waco Lake
Longhorn steers in Waco TX
Memorial Chapel at Branch Davidian
The Alamo in San Antonio TX

Return to
Lee Roy's
San Antonio TX

and to Shorty's Place

Texas BBQ
Tarpley TX

Yes, We did have to wash the RV!!!!
Jerry & Etta
Las Cruces NM
Dad's 60th party in Alamogordo NM
Cumbres & Toltec engine # 497
Chama NM
Our train ride into Colorado
Take a ride on the train with us!!!
The climb to Los Alamos
High on the Mesa
Dare Devil Dogs
Who stole the chair?

The
Dahl Balloon

Family Photos

Stan & Peg Gunter
-Illinois
Michael & David Gunter (Peggy Wessling)
Mark Dahl, Terry, Sievert & Marvin
- Oklahoma
Ken Theresa John Kat Jackson & Pepper
Harry & Marge Phoenix AZ
Scott & Darla and twin daughters and Uncle Nick
Nick Thiel and his nieces
Harry, Marge Anne Andre tailgate at Cardinals game
Harry & Marge's grandson

If you have a lot of time on your hands, you can
browse through a directory of over 500MB of photos from our trip.
Just in case you never got a chance to read our Christmas 98 letter, you can still click here to see it.

Chuck & Ina Feller
1 Elm Street
Chester NJ 07930
908-879-7445 / 908-879-6847 H
732-457-5454 W (Chuck)
chuck@feller.org
ina@feller.org