The S.S. Teutonia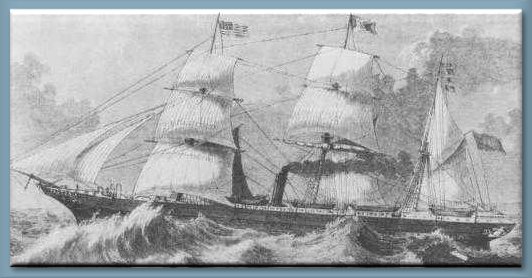 Above an authentic drawing of the Teutonia. This voyage from Hamburg, Germany to New York bought Lena's parents into the U.S.A.
Beneath the actual statistics of the S.S. Teutonica.
Owner: "Hamburg Brasilian Steamship Co." in Hamburg, Germany
Year build: 1856
Builders: Caird & Co., Greenock
Tons: 2693 - Length: 86,0m - Width: 12,0m
Engine: 1 I-Exp. - PS 1300 - Knots: 10
Passengers: 1.Class 50
Passengers: 2.Class 136
Passengers: Middle Deck: 310
Crew 80
Renamed:
Sank:
---
Web Design and Graphic Art by Carla Ute Kelly - you may contact me at:
brain @ work
Copyright © 2004 by [C. Ute Kelly] All rights reserved.
---